25 February 2011 13:10

My Pontiac, I saw it for sale on-line in the Netherlands. Being able to see and drive the car before buying it is a big pro. If I would have bought it in the USA I can't be sure what I bought until I have it a home. After getting in touch with the seller I made an appointment to see and test the car. In the flesh the car looked way better than on the pictures and a short inspection showed that the car was in perfect state. After a testdrive I knew I had to buy this car, which I did on 25 februari 2011.

I drove the Pontiac to the RDW (Rijksdienst voor Wegverkeer) to import it to the Netherlands as it was registered as Belgian car. Unfortunately the dynamo broke along the way which meant I had to drive about 250KM with a ticking dynamo. To prevent shorting the car's electrical system I removed the wires from the dynamo. I was lucky to have a full battery and a car that starts really well, because the battery didn't recharge along the way and no-one would be able to help jumpstarting because of the 6V system.

Below you see a video on the day I arrived home with the car:

For the moment I don't have a working car. I still need a working dynamo, new plates and insurance. The plates and insurance will be arranged in a few days. The dynamo is a different story. I removed the dynamo and noticed that the pulley scraped on the casing of the dynamo. It's probably caused by a worn out bearing. As pictures tell more than a thousand words: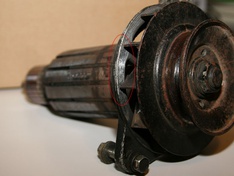 On the left you see the damage caused by the pulley that scraped on the metal. The right photo shows the inside part with the bearing that isn't steady anymore. I can tilt the rotor a bit which shouldn't happen.